October 2014 Highlights, New Routes & Updates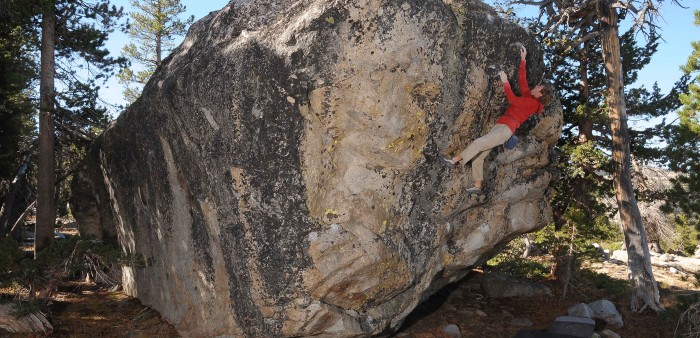 HIGHLIGHTS:
Rock-tober, hell yes. The temps were the highlight of course. It's amazing how much easier problems feel when the conditions are perfect.
New Routes:
The Platinum Boulders by Silver Lake was our main focus for new routes this month. This place is mega and will be one of the best spots in the upcoming "Outlying Areas" guide, hands down. We couldn't stand to walk by the "Entrance Block" anymore and Dave Schwisow, Kevin Jones and I did 7 nice lines from V1-v5. Lamberto Franco joined us next and we added several new boulders to the circuit on some nice blocks behind the "All time Boulder." Paul Barraza caught wind of the "All Time Boulder" and went there with his wife a new baby. He repeated many of the classics on this outstanding boulder. While he was there he put up a cool v8 called "Rug Rat" which climbs out an overhang on a seperate boulder 50 yds away. Visiting climber Billy Brown joined us one day and added a new line around the corner from "Rug Rat." It's a cool V5 arête with some tech moves. The same day he also repeated "Electric Chair" V10. Nice Work! Near the end of the month Seth Carter, Mike Hatchett and I went up the hill to another gem of a boulder named the "Magic Block, which rivals the "All Time Boulder" in quality. We had climbed on this boulder last year, but we didn't finish all the lines. This time around we added 3 new lines, 2 v4's on the far right climbing edges and jugs out the steep bulge. And on the left we sent "Bonus Five" v5 which is yet another 3 star classic with perfect holds and moves. This boulder is truly magic! At sunset we hiked up the hill 5 minutes and found 2 more boulders which sit up on a plateau, with beautiful views of the surrouning mountains. Like the rest of the Platinums, the problmes were all time! At Benwood Meadows a few new blocks got developed 150 yds uphill from the "Landshark Boulder." The problems range from vb-v4, with one mega project waiting for somebody to do. It's going to be fairly hard, maybe v9ish and many pads are needed for the semi uneven landing and highball nature of the problem.
Updates:
Not much update info this month regarding grades, but…..What is up with all the climbing tape, bottle caps and even cig butts at the boulders?? I know this is a small crowd this pulls this shit, but come on now. This stuff is trash, it's ugly and disgusting. Pack it in-pack it out you lazy turds.